Aluminum White Water Prams
The Koffler 8′, 10′, and 12′ welded aluminum prams are built with the lone hunter or fisherman in mind for the greatest mobility and easy handling.The 10′ and 12′ aluminum prams are also suitable for two persons.
As a small drift boat, the pram is the highest quality, most stable and maneuverable welded aluminum fishing and hunting boat of its type available.
*Kofflers is now offering the 10′ and 12′ aluminum prams in a wide-back version which floats shallower, is even more stable, and offers more interior room than our original pram models.
Things to consider when ordering your customized Koffler White Water Pram.
Available Options & Accessories
We have a wide range of accessories for your Koffler Boat. If we don't have what you're looking for, we can customize your boat to meet your needs.
White Water Pram Galleries
Click on the thumbnails below to view examples.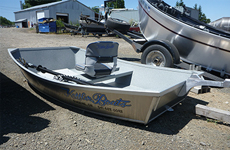 8′ White Water Prams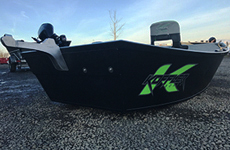 10′ White Water Prams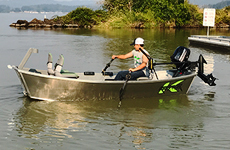 12′ White Water Prams
Specifications
Dimensions
Centerline
Length
Beam
Bottom
Width
Transom
Height
Stem
Height
Oar Lock
Height
Hull
Weight
Person
Capacity
Gross
Capacity
8′
93″
61″
47″
15″
19″
16″
100#
1
250
10′
9'6″
63″
47″
20″
22.5″
19″
140#
2
420
12′
11'4″
71″
47″
20″
26″
22″
160#
2
420